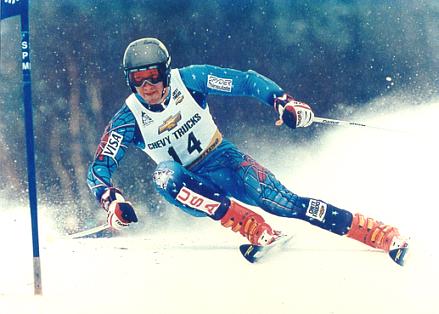 The 1932 and 1980 Winter Olympic Games have firmly established the Adirondacks, and specifically Lake Placid, as the premier winter sports capital of the world. In fact, when it comes to winter sports, there is more to see and do in the Adirondacks that anywhere else on earth!! Where else can a visitor ride to the top of a 120 meter ski jump or hurdle down a refrigerated bobsled track at 60 miles per hour! With hundreds of miles of beautiful backcountry ski trails, cross country skiers can pole their way from village to village stopping along the way to sample delicious homecooked meals at many trailside inns and bed and Breakfast's. For Alpine Skiers, the Adirondacks and Upstate New York boast over 30 ski mountains including Gore Mountain and Whiteface Mountain, offering the steepest vertical drop in the East. In Vermont skiiers can choose from over seventeen major ski resorts including Ascutney, Bear Creek, Bolton Valley, Bromley, Burke ,Jay Peak, Killington/Pico, Mad River Glen, Middlebury Snow Bowl, Mount Snow, Okemo, Smugglers' Notch, Stowe, Stratton, Sugarbush and Suicide six.

For a comprehensive guide to New York ski resorts please visit www.NewYorkSkiing.com


www.SNOWSHOEING.COM
In the winter the Adirondacks offer world class Winter Sports including Skiing , X-Country , Snowboarding , Hockey, Snowmobiling , Dog Sledding , Ice Fishing , Ice Climbing ,Winter Camping , Skating , Snowshoeing and Bobsledding .
Visitors and residents alike enjoy the many fine downhill and cross-country ski areas in the Adirondacks. At Whiteface Mountain, just outside of Lake Placid, you'll find some of the best alpine skiing and snowboarding in North America. It has the greatest vertical drop this side of the Rockies and is the only ski area in the East to have hosted the Olympic Winter Games.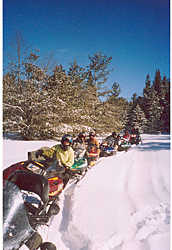 photo courtesy of SnoTours Inc

Neighboring Vermont boasts challenging skiing at Killington, Stowe & Stratton as well as several other fine ski centers.

Snowmobiling in the Adirondacks!
The Adirondack Mountains have the largest, most diverse trail system for snowmobiling in NY State. You can find the most up to date Adirondack snowmobiling trail conditions, information on snowmobile rentals, snowmobile maps, and restaurant locations for riders with just a click of your mouse. From well groomed woodland tracks to lake bed riding - regardless of your level of ability, snowmobiling fun can be found in the Adirondacks! click here for our snowmobile headquarters!

CROSS COUNTRY SKIING in the ADIRONDACKS!
Cross-country skiing is a great way for the entire family to enjoy the beautiful winter landscape throughout the Adirondack region. Basic skills can be learned quickly and most cross-country ski centers offer rentals and lessons. The Adirondacks offer many low fee or free cross-country trails. Lake Placid is home to world-class skiing at Mount Van Hoevenberg, one of the most well known Nordic ski centers in the country and the Jackrabbit Trail System criss-crosses throughout the area. Whatever your skill level, you can find outdoor adventure in the Adirondacks! In addition to offering you links to Adirondack cross country skiing we also provide links to cross-country ski centers and equipment manufactures around the country. Including Canada, Montana, Idaho and Lake Tahoe.




Compare & save up to 60% everyday on skates, sticks & over 1000 other hockey equipment products in stock for same-day shipment!
Search a large selection of hockey gear including womens & youth sized hockey equipment and more! Click here






---
Beautiful 'four seasons' waterfront compound ideal for family reunions, weddings, snow mobile groups & corporate retreats!



Remarkable setting on one of the most beautiful lakes
in the Adirondacks!
Perfect for large groups up to 40 people!

Attention Snow Mobilers
Book your reservations now for the upcoming winter season!
This facility is ideal for large or small snowmobile clubs & groups. Located directly on a main Adirondack snowmobile route connecting to hundreds of miles of snowmobile trails throughout Upstate New York.
click here

---
Home of two of the Jewels of the Northeast; Gore Mountain & Whiteface Mountain. From North Creek to Lake Placid, there are thousands of wonderful Cross Country Ski Trails!
At Whiteface Mountain, you'll find some of the best alpine skiing and snowboarding in North America. It has the greatest vertical drop this side of the Rockies and is the only ski area in the East to have hosted the Olympic Winter Games.
Facts
Base Elevation: 1,200 feet
Summit Elevation: 4,867 feet
Top Lift Elevation: 4,416 feet
Vertical Drop: 3,350 feet (Biggest in the East)
Skiable Acreage: 211 acres
Cloudsplitter Gondola: 7.5 minutes from the base to the top of Little Whiteface
Lifts: 10
Trails: 67
Snowmaking: 97% - does not include the slides
Terrain: One-third each of most difficult, more difficult, easiest
Half Pipe: 425 feet, International FIS Specs
Hours: 8:30 am to 4 pm daily
First opened: 1957
The Slides: 35 acres (open conditions permitting) Experts Only
Operated by: New York State Olympic Regional

Directions;
From New York City and New Jersey
Take the NY State Thruway (I-87) north to the Adirondack Northway (Exit 24 in Albany). Follow 87 to Exit 30. Pick up Route 9 north and follow it for two miles to Route 73. Continue on 73 for 28 miles to Lake Placid area. Take Route 86 east to Whiteface Mountain. From NYC: 5 hrs, Albany: 2 1/2 hrs.
From Toronto
Take 401 east to Cornwall Bridge. Pick up Route 37 east to Malone. Follow Route 30 south to Paul Smiths and pick up Route 86. Continue on 86 thru Saranac Lake and Lake Placid to Whiteface Mountain. Drive time: 5 1/2 hours.
From Montreal
Take Route 15 south to Champlain Crossing, connecting with I-87 south. Take Exit 34 west, following Route 9 north, then follow Route 86 to Whiteface Mountain. Drive time: 2 hours.
From Boston, Springfield, Hartford
Take Massachusetts Turnpike (I-90) to Albany. Pick up I-787 north to Cohoes. Connect with Route 7 west to I-87 north. Follow I-87 (Northway) to Exit 30, then use final directions above: "From New York City..." Drive time from Boston: 5 hours.
From Ottawa
Take routes south to the Cornwall Bridge. Pick up Route 37 east to Malone. Follow Route 30 south to Paul Smiths and pick up Route 86. Follow Route 86 and continue thru Saranac Lake and Lake Placid to Whiteface Mountain. Drive time: 3 hours.
From Buffalo, Rochester, Syracuse, Points West
Take I-90 (NY State Thruway) east to Exit 36 (Syracuse). Pick up I-81 north and follow to Watertown. Take Route 3 and follow it east to Saranac Lake, then follow Route 86 east to Whiteface Mountain. Drive times: From Buffalo: 5 1/2 hours; Rochester: 4 1/2 hours; Syracuse: 3 1/2 hours.



Gore Mountain
Facts
Schedule: Mid-November through Mid-April. 8:30 AM to 4:30 PM. Weekends until the end of April
Elevations: Base 1,500 feet; Summit 3,600 feet
Vertical Drop: 2,100 feet
Trails: 62
Longest Run: 2.9 miles
Snowfall: 150 inches per year
Skiable Acres: 292
Terrain: 10% beginner, 60% intermediate, 30% expert
Snowmaking: 95% coverage, water supply from the Hudson River
Lifts: 9 total- New 8 passenger Northwoods Gondola, 2 Quads, 1 Highspeed Triple (The Adirondack Express), 3 Doubles, 2 Surface lifts.
Services: Two Lodges: Main Base Lodge with dining, Ski & Snowboard School, mountain patrol, nursery, rental shop, accessory and clothing shop, lounge, administration, ticketing; Saddle Lodge at mid-mountain with food service.
Location: Route 28 and Peaceful Valley Road, North Creek, NY, 21 miles off I-87
Phone Number: Mountain Offices, (518) 251-2411; Snow report, (800) 342-1234
Internet: Website - http://www.goremountain.com; Email- info@goremtn.com
Key Personnel: General Manager: Michael J. Pratt
Assistant GM/Ski School Director: Joe Barclay
Director of Marketing & Sales: Jason L. Sherry
Directions;
TRAVELING FROM THE SOUTH
NYS Thruway to Exit 24. Take I-87 (the Northway) to Exit 23 (Warrensburg). Follow Route 9 for 4 miles to Route 28 and proceed 16 miles to Peaceful Valley Road.
TRAVELING FROM THE NORTH
Take I-87 (the Northway) to Exit 26 (Pottersville). Follow the Gore Mountain "Trailblazer" signs through Olmstedville then left on Route 28N to North Creek. Make a left turn onto Route 28 and then a right onto Peaceful Valley Road.
ALTERNATE ROUTE (FROM NORTH OR SOUTH)
Take I-87 (the Northway) to Exit 25 (Chestertown). Follow Route 8 west for 11 miles. Turn right in Wevertown on Route 28; proceed north to Peaceful Valley Road.
TRAVELING FROM THE WEST
Take I-90 (NYS Thruway) east to Utica. Take Route 8 North from Utica to North Creek. Make a left onto Peaceful Valley Road and continue 5 miles to Gore Mountain.
West Mountain - 59 West Mountain Road, Glens Falls, NY 12804. 3 miles west of Northway (I-87) exit 18. (518)793-6606. 1,010 foot vertical drop, 21 trails (beginner, intermediate and expert), 60% snowmaking. Lessons and equipment rental available. Child care and kid-ski programs available. Open daily, Monday through Friday 9:30AM-10:30PM, Saturday and Sunday 8:30AM-6PM. Closed Christmas Day. Tickets are sold for 4 and 8 hour blocks.


Garnet Hill Cross Country Ski Area:
Garnet Hill Lodge is a four season Adirondack Inn / Resort in the Adirondacks of New York- a summer vacation destination and a complete cross country skiing center in winter. Discover Garnet Hill's spectacular lake and mountain view, distinctive accommodations, superb cuisine and outdoor fun.
13th Lake Rd, North River, NY 12856
518-251-2444 Email: mail@garnet-hill.com
Jackrabbit Trail and Interconnect Pass


The 50-kilometer Jackrabbit Trail runs from Keene, through Lake Placid and Saranac Lake, to Paul Smiths. It is a public trail that connects with four ski centers and several backcountry routes along the way. 15K of trail near ski centers are groomed and subject to a trail fee. Over 35K of ungroomed trail sections are free. Trail maps showing access points and fee areas are available at all centers and sport shops.

Rates: For $12/day, the Interconnect Pass will allow you to access the following ski centers: Cascade, Lake Placid Resort, Mt. Van Hoevenberg and the Whiteface Club. Call 1-800-447-5224.
Season: Open throughout the winter, weather permitting.

301 Main Street/Town Hall
Lake Placid NY 12946
518-523-1365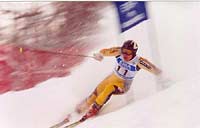 Click here to order photos of skiers in action at Whiteface Mt.




Looking for a second home in one of the top ski resorts in the country? We invite you to visit Adirondack Real Estate.com