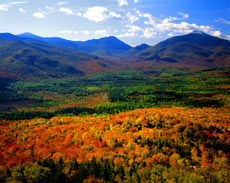 Image by Frank Houck
Get the inside scoop on the best places to go camping, where to stay, who the local experts are and where to buy the best equipment!
Click here for a topo map of the Adirondack Park
and surrounding areas!

New York State Public Campgrounds

DEC operates 52 campgrounds located in the Adirondack and Catskill Parks. DEC campgrounds provide a wide variety of experiences, including island camping, tent and trailer camping, boat launching facilities, hiking trails, beaches and day use areas with picnic tables and grills. Fishing licenses are no longer being sold at any of our campground facilities.
http://www.dec.ny.gov/outdoor/camping.html
Please be careful in the back country at this time of year. The trails are muddy but if you are hiking or camping please do not swing wide on the trails. This hurts the traffic on the trail for the rest of the year. Please just walk through the mud!
Click here for a quick list of campgrounds that are open during the fall season
Click here for a map of the Adirondack Park
and surrounding areas!



CAMPING & OTHER




Adirondack Campground Association
Your guide to the best of Adirondack camping in New York State's Adirondack Mountains. The ACA is dedicated to the campgrounds and the sport of camping in the Adirondack Mountain Region of New York State. The Association works on behalf of privately-owned campgrounds open to the public, and is also dedicated to the advancement of the camping industry, its patrons, and its businesses.




The Old Forge Camping Resort
3347 State Route 28
P.O. Box 51
Old Forge, NY 13420
Phone: 1-800-CAMPING or 315-369-6011
Adirondack Camping Open All Year with over 400 Wooded Sites,Cabins, Cottages, RV and Tent Sites • Located on Beautiful Lake Serene • Full Camp Store • Arcade • Family Movies • Nature Trail • Boat Rentals • Swimming • Fishing and much more • Take the Free Shuttle or Walk Right Next Door to the Enchanted Forest/Water Safari v • Call about our Weekday Cabin Stay 'N Play packages with the Enchanted Forest/Water Safari • Direct Access to over 500 Miles of Groomed Snowmobile Trails in the Winter • Drive Right Up To Your Door! • Online Cabin Cabin, Cottage, RV & Tent Reservations • For More Information & Reservations Visit www.OldForgeCamping.com or Call 1-800-CAMPING or 315-369-6011


Yogi Bear's Jellystone Park at Paradise Pines
P O Box 180 Blue Ridge Road North Hudson, NY 12855
phone: 800-232-5349 email: office@paradisepine.com
Yogi Bear @ Paradise Pines is a clean, friendly, family oriented camping resort. Our resort has NEW Cabins with bathrooms & kitchens, or new large campsites for any kind of camping equipment available for your family vacation. In addition to the cabin or campsite, many amenities are encompassed in the resort. Safety & Security. Rain or Shine always a GOOD TIME! Our picturesque setting along the Schroon River nestled between the High Peaks of the Adirondack Mountains is one of the most beautiful you have ever seen. Our easy access to all the Adirondack attractions and the serenity of our relaxing resort makes your stay with us the perfect combination. We offer theme weekends, DJ dances, daily activities & crafts for ages 3 to 103. Bring no food as our delicious snack menu including pizza delivered to your site will tide you over while doing important things like RELAXING with your family at the pool, or the waterfront or just moon gazing at the campfire. We are open from May 1st to October 20th. Pets are welcomed on a leash and attended to. Sorry no pets in our outside rental units. We offer special rates for early and late season campers.

WHITE WATER RAFTING TRIPS
Offering amazing white water rafting trips all over the US and Canada! Search for the best white water deals from New York to California all over the web. Choose a trip for any age or ability level. Ideal for families, groups and solo travelers.

WHITE WATER RAFTING VACATIONS
America's experts in rafting bring you rafting trips on 44 of America's most fun rivers. Professional guides. Beginners to experts welcome. Using only state of the art equipment insuring a great adventure in the water. Large Groups welcome!


Donate Your Old Camper,Truck, Car or Boat to Chairty!


Campers & Hikers: Do you have an old RV, camper, truck, car or boat sitting behind your garage? Think about donating it to your favorite chairty and get a great tax write off.
Receive full fair market value as a tax deduction!
Click here to learn more and search for your favorite charity!
Free nationwide pickup and no complicated paperwork.
It's fast and easy. All vehicles accepted.
Donate Trucks.com





Adirondack Camping Stores


Charlie Johns Store Visit Charlie Johns store at The Four Corners in Speculator, NY. In addition to a full-service supermarket we stock a variety of camping and hiking supplies, including: sleeping bags, tents, repair parts, Coleman fuel, folding chairs, ponchos, air mattresses and much more! For more information visit our website at www.charliejohns.com. Online you can purchase over 300 titles of books on the Adirondacks and wilderness as well as camping and hiking trail guides with FREE SHIPPING! While online click the True Value banner to shop direct from the True Value warehouse where thousands of items, tips, projects, and advice are available right from the source!

Blue Line Sport Shop
Broadway and Main St in Saranac Lake. Full service store with bait, camping supplies, clothing and more!


The Mountaineer
Route 73, Box 66, Keene Valley, New York 12943 - (518) 576-2281, Fax: 518 576-4352
Purveyors of rugged Mountaineering equipment and fine clothing since 1975. This unique shop was built in 1974 in the hamlet of Keene Valley in the heart of the Adirondack High Peaks. Keene Valley, New York 12943

Kindred Spirits Adirondack Outfitters- Olmstedville, NY 12857 - 1-800-799-HIKE(4453)


CAMPING GUIDES



Bear Cub Adventures
30 Bear Cub Road, Lake Placid, NY 12946 - (518) 523-4339
Offering Outdoor Guided Adventures and Skills Instruction; Wilderness Canoe Trips, Canoe & Kayak Instruction, Family Fishing Trips, and so much more.


St. Regis Canoe Outfitters - 73 Dorsey St - Saranac Lake, NY phone:518-891-1838
Instructions ,Programs, Outfitting Services, Canoe & Kayak Rentals, Camping Gear Rentals, Transportation. All of your outfitting needs in the Adirondacks.

Tahawus Limited
P.O. Box 424, Lake Placid, NY 12946 - (518) 891-4334
Tahawus Guide Services offers traditional outdoor adventures for people of all ages, regardless of ability level or physical condition. Based on the legendary guide services of the late 1800's, the guides of Tahawus are experienced outdoor professionals who will delight you with the natural history and lore of the Adirondacks. Offering Fly Fishing, Canoe and Fishing trips, Mountaineering, Ski Tours, and so much more.
Valuable Hiking Links

HikingClothes.org
Up to 70% off! Find clothes that are sun-protective, zip-off pants, wrinkle-resistant, quick-dry & lightweight.
click here

HikingShoes.biz
Shop a full line of rugged, field-tested hiking footwear, from day hiking shoes to backpacking boots. Find Gore-Tex hikers & leather hiking boots
click here
Camping Stories

Making Camp in the Adirondacks - By Joeseph Hackett
Describes how to select a campsite, set up shelter, make a campfire, establishing your cooking/eating area so the bears don't decide to come to dinner and so much more. Common sense and proper pre-trip planning are the essential elements to camping.
Somewhere East of Nowhere - By Joeseph Hackett
A Great Camping Story



Region 5 Forest Rangers - Zone A
Name
Location
County
Telephone
Lt. Robert Marrone
Zone Supervisor
Saranac Lake
Essex, Fraklin
& Hamilton
518-891-2437
Jeffrey Balerno
Bloomingdale
Essex & Franklin
518-891-0477
Keith Bassage
Paul Smiths
Essex & Franklin
518-327-3132, Cell: 518-335-5087
Pete Evans
Lake Clear
Essex & Franklin
518-891-4897
Julie Harjung
Saranac Lake
Essex & Franklin
518-891-7379, Cell: 518-810-3985
Jim Waters
Long Lake
Hamilton
518-624-3272, Cell: 518-335-3261
Robert Zurek
Whitney-Lake Lila
Wilderness Area
Hamilton
518-624-6686, Cell: 518-505-4151
Visit

Christmas Wreath.com

Search and compare the lowest prices for fresh balsam wreaths & hand crafted gifts from all over the country!

Free shipping & toll free ordering!

Click here

Visit

Cheap Gift Baskets.com

Treat that special person to a lovely gift basket for any occasion! Get the lowest prices on the web and search a huge selection of

gourmet gift baskets with cheese, wine & chocolate! Find corporate gifts, flowers, get well gift baskets, and much more!

Enjoy toll free ordering & free shipping!

Click here

Calendar of Events | Vacation Rentals | Real Estate | Lodging & Accomodations
Dining | Summer Sports | Winter Sports | Arts & Crafts | Attractions
Shopping | Adirondack Kids | Adirondack Lifestyles | Education
Business Profiles | Community Links | Business Directory | Classifieds
Adirondack History | Bulletin Board | Chat Room | Guestbook Comments | Return Home




43 Broadway
Saranac Lake, New York 12983
Phone: 518-891-3745 Fax: 518-891-3768
E-Mail: Adirondacks.com
This website is owned and operated by
adirondacks.com internet publishing group.
For advertising and editorial content,
please contact Rob Grant;
adirondacks.com reserves the right to reject,
modify or cancel any advertising at its sole discretion.
© Adirondacks.com - all rights reserved