The 46 High Peaks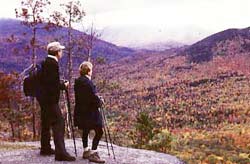 Adirondack Hikers
Photo courtesy of Jim Grant
The High Peaks Region is famous for its magnificant 46 peaks including Mt. Marcy, the highest peak in New york State, with an elevation of 5344' .The 46 peaks include the following mountains (listed in order of height):
Mt. Marcy, Algonquin Peak, Mt. Haystack, Mt. Skylight, Whiteface Mtn,Dix Mtn. , Gray Peak, Iroquois Peak , Basin Mtn., Gothics, Mt. Colden, Giant Mtn., Nippletop, Santanoni Peak, Mt. Redfield, Wright Peak, Saddleback Mtn., Panther Peak, Tabletop Mtn., Rocky Peak Ridge, Macomb Mtn., Armstrong Mtn. ,Hough Peak, Seward Mtn., Mt. Marshall, Allen Mtn., Big Slide Mtn., Esther Mtn. , Upper Wolfjaw, Lower Wolfjaw , Street Mtn., Phelps Mtn., Mt. Donaldson, Seymour Mtn., Sawteeth, Cascade Mtn., South Dix, Porter Mtn., Mt. Colvin, Mt. Emmons, Dial Mtn., East Dix, Blake, Cliff Mtn., Nye Mtn., and Couchsachraga Peak.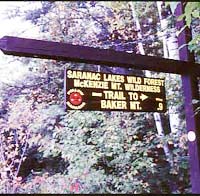 Adirondack Trail Guide
and Hiking Resource Center



The local Forest Ranger is the source for more current and specific information. To obtain the name and phone number of the local Forest Ranger call the DEC Region 5 office at 518-897-1200.
BE AWARE: Back country hiking trails can be rugged and rough - they are not maintained as park walkways - wear proper footwear!
REMEMBER: Weather and trail conditions can change rapidly, especially during fall, winter and spring. Plan and prepare accordingly.
ALWAYS: Inform someone of your itinerary and when you expect to return.
Use map to determine area of interest and check below for the Forest Preserve units found in each area.
Please be careful while hiking in the back country in the springtime. The trails are muddy but if you are hiking or camping please do not swing wide on the trails. This hurts the traffic on the trail for the rest of the year. Please just walk through the mud! Thank you!!

The Best of the Adirondacks

Fall Hiking - Baxter Mountain
Jim Grant - Expert contributing writer
When I think of the best time of the year to hike in the Adirondacks, I recall the words of a forest ranger I'd met at Adirondack Loj headquarters at Heart Lake, "You just can't beat being in these peaks in the fall. The bugs are gone, the air is cool, and the color of the leaves, well, they'll make you stop what you're doing and make you think you'd gone to heaven."
I was in the mood for a little bit of heaven last Friday. As it was just the first week of September, the weather was still warm. In fact, today's high called for a record 90° with the potential for afternoon thunderstorms. But a glance out of my cabin window to the top of a century-old maple revealed the first scarlet hues of fall.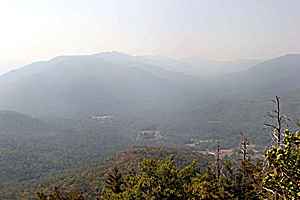 View from Baxter Mountain
Photo courtesy of Jim Grant
Fall foliage here is kind of like watching a puppy grow up. It happens quickly, and if you don't pause now and then to enjoy it you'll miss it.
Another tip on hiking in the area is that you don't have to climb one of the legendary 46 Peaks to get a great view. In fact, there are a dozen or so smaller mountains that offer a rewarding wilderness experience, and that are ideal for families looking for a short hike.
One of my favorites is Baxter Mountain overlooking the village of Keene Valley. The most popular trail, which is just over a mile in length for this the 2,440' peak, begins off of Route 9 and on Spruce Hill. The sign's a little faded, but keep your eyes peeled on the right hand side of the road. If you come to the Baxter Mountain Tavern on the left you've just missed the start of the trail.
The land here is privately owned, but remains open to all except hunters, fishermen and campers. Just off the highway the trail begins through a field of purple Aster, Golden Rod and daisies, sure signs that fall is on the way, and continues into a forest of pines that provide welcome shade.
The path to the summit can be accomplished casually in under an hour and offers a generally moderate grade. Along the way you'll see a nice variety of maples, paper birch balsams and hemlocks. Occasionally, you'll also see enormous glacial erratic boulders that offer a convenient spot to sit and rest. These boulders, left in place after the last ice age some 10,000 years ago, are layered in places with a luxurious carpet of emerald mosses that remain cool and moist throughout the day.
Following a series of gentle switchbacks, the approach to the peak becomes steeper, but soon levels off to a series of overlooks with stunning views of the valleys below and peaks of the Great Range including the tallest in New York State, 5,344' Mount Marcy. Continuing on to the final summit you'll be able to look down to the village of Keene Valley nestled in the base of the surrounding mountains.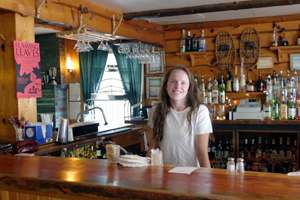 Baxter Mountain Tavern
Photo courtesy of Jim Grant
As with much in life, timing is everything. If you begin your climb at around 10 o'clock, you'll be back at the trailhead at about noon and just in time for lunch at the Baxter Mountain Tavern, about an eighth of a mile north on Route 9N. The restaurant's been a landmark for decades, and for the past 10 years has been run by Dave Deyo.
Dave describes the menu as typical "Adirondack Continental", which includes casual fare such as the Baxter Mt. Burger, a hardy 8-ouncer, with sautéed mushrooms and onions topped with melted American cheese, lettuce and tomato at $7.95. Or try a house specialty, the sesame encrusted tuna served over fresh baby spinach and topped with a wasabi sauce for $15.95. For a beautiful view of the surrounding peaks try the Tavern's, spacious deck.
Have children? Please visit Adirondack Kids and check out their Hiking Trails. Hikes the whole family can take! To find places to set up camp, check out camping the summer Sports section.

Valuable Hiking Links

HikingClothes.org
Up to 70% off! Find clothes that are sun-protective, zip-off pants, wrinkle-resistant, quick-dry & lightweight.
click here

HikingShoes.biz
Shop a full line of rugged, field-tested hiking footwear, from day hiking shoes to backpacking boots. Find Gore-Tex hikers & leather hiking boots
click here

Hiking in Other Regions


Regional Book Favorites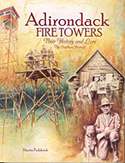 NEW BOOK TELLS THE STORY OF ADIRONDACK FIRE TOWERS

Adirondack Fire Towers
Their History and Lore The Southern Districts
click here for more info

Donate Your Old Camper,Truck, Car or Boat to Chairty!

Campers & Hikers: Do you have an old RV, camper, truck, car or boat sitting behind your garage? Think about donating it to your favorite chairty and get a great tax write off.
Receive full fair market value as a tax deduction!
Click here to learn more and search for your favorite charity!
Free nationwide pickup and no complicated paperwork.
It's fast and easy. All vehicles accepted.
Donate Trucks.com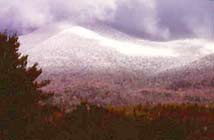 Photo courtesy of Jim Grant

Current Adirondack weather and mountain forecasts for hikers and climbers
click here
Emergency Regulations Adopted For High Peaks Wilderness Area
New York State DEC
click here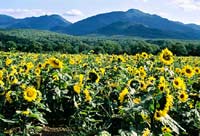 We invite you to visit our gallery of Adirondack High Peaks photos by
outdoor photographers Carl Heilman and Frank Houck.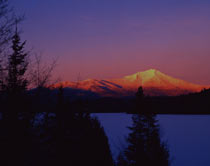 Click here for a list of the 46 Peaks

Adirondack Hiking Resources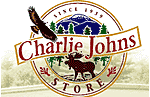 Charlie Johns Store Visit Charlie Johns store at The Four Corners in Speculator, NY. In addition to a full-service supermarket we stock a variety of camping and hiking supplies, including: sleeping bags, tents, repair parts, Coleman fuel, folding chairs, ponchos, air mattresses and much more! For more information visit our website at www.charliejohns.com. Online you can purchase over 300 titles of books on the Adirondacks and wilderness as well as camping and hiking trail guides with FREE SHIPPING! While online click the True Value banner to shop direct from the True Value warehouse where thousands of items, tips, projects, and advice are available right from the source!


The Mountaineer
Route 73, Box 66, Keene Valley, New York 12943 - (518) 576-2281

Kindred Spirits Adirondack Outfitters- Olmstedville, NY 12857 - 1-800-799-HIKE(4453)

Adirondack Hiking Clubs
Adirondack Mountain Club- Lake George, NY 12845 - (518) 668-4447

Appalachian Mountain Club- 5 Tudor Court, New York, NY

Finger Lakes Trail Conference- New York - (716) 288-7191

Adirondack Hiking Guides
Bear Cub Adventures
30 Bear Cub Road, Lake Placid, NY 12946 - (518) 523-4339
Offering Outdoor Guided Adventures and Skills Instruction; Hiking Trips, Wilderness Canoe Trips, Canoe & Kayak Instruction, Family Fishing Trips, and so much more.
Tahawus Limited
P.O. Box 424, Lake Placid, NY 12946 - (518) 891-4334
Tahawus Guide Services offers traditional outdoor adventures for people of all ages, regardless of ability level or physical condition. Based on the legendary guide services of the late 1800's, the guides of Tahawus are experienced outdoor professionals who will delight you with the natural history and lore of the Adirondacks. Offering Hiking, Fly Fishing, Canoe and Fishing trips, Mountaineering, Ski Tours, and so much more.

All Seasons Outfitters- Saranac Lake, NY - (518) 891-6159

Birchbark Tours- Saranac Lake, NY - (518) 891-5704

Blue Mountain Outfitters - Blue Mountain Lake, NY - (518) 352-7306

Trailhead Adventure Treks - Northville, NY - (518) 863-2198

Touraid Travel Outdoor Adventures- Plattsburgh, NY - (518) 563-5605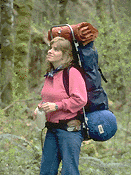 Adirondack Lodging for Hikers
Trail's End Hikers/Skiers Lodge HC01 Box 103, Keene Valley, New York 12943 - (518) 576-9860 or 800-281-9860
A romantic 1902 Adirondack lodge nestled in New York's Keene Valley amid soaring mountain peaks. This rustic, romantic, and secluded bed & breakfast inn is ideally located for all season activities as Hiking, canoeing, fishing, whitewater, bicycling, horseback riding, golf, tennis, swimming, bird watching, rock climbing, and more.
BACK TO THE TOP


43 Broadway
Saranac Lake, New York 12983
Phone: 518-891-3745 Fax: 518-891-3768
E-Mail: Adirondacks.com

This website is owned and operated by
adirondacks.com internet publishing group.
For advertising and editorial content,
please contact Rob Grant;
adirondacks.com reserves the right to reject,
modify or cancel any advertising at its sole discretion.
© Adirondacks.com - all rights reserved