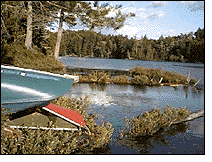 The Adirondack Park and adjacent areas contain thousands of lakes and ponds and hundreds of miles of rivers and streams, including the mountain lake that is the headwaters of the Hudson River. It can be considered one of the nations most valuable resources. Below are some of the more popular routes, though many of the best experiences can still be found by exploration.
Get the inside scoop on the best places to go Boating, kayaking and Canoeing, where to stay, who the local experts are and where to buy the best equipment!
We invite you to browse through our Online Guide to
Boating, Kayaking & Canoeing


KAYAK FISHING ON AN ADIRONDACK RIVER
Brown Trout, Bass & Pike (click here for virtual slide show)


Adirondack Boating
Kayak & Canoe Guides
& Retreats

WHITE WATER RAFTING TRIPS
Offering amazing white water rafting trips all over the US and Canada!

Search for the best white water deals from New York to California all over the web. Choose a trip for any age or ability level. Ideal for families, groups and solo travelers.



WHITE WATER RAFTING VACATIONS
America's experts in rafting bring you rafting trips on 44 of America's most fun rivers. Professional guides. Beginners to experts welcome. Using only state of the art equipment insuring a great adventure in the water. Large Groups welcome!



Bear Cub Adventures
30 Bear Cub Road, Lake Placid, NY 12946 - (518) 523-4339
Offering Outdoor Guided Adventures and Skills Instruction; Wilderness Canoe Trips, Canoe & Kayak Instruction, Family Fishing Trips, and so much more.





St. Regis Canoe Outfitters - 73 Dorsey St - Saranac Lake, NY and Floodwood Rd at the edge of the St Regis Canoe Wilderness. phone:518-891-1838 Toll Free 888-775-2925 (888-SR Kayak) Lightweight Canoe & Kayak Rentals, Camping Gear Rentals, Instruction, Outfitting Packages, & Shuttles. We are on the Northern Forest Canoe Trail. St. Regis Canoe Outfitters - Saranac Lake, NY - (518) 891-1838





Adirondack Sport Shop
"Home to the Ausable Wullf", Wilmington, NY - (518) 359-2174
Fran Betters has been known by sportsmen for years as the definitive expert on fishing and fly-fishing in the Adirondacks and author of many indispensable books! He offers fly fishing and casting instructions, stream orientations and an open invitation to all who fish to attend his FREE Barbeques and flycasting clinics throughout the summer!


Blue Mountain Outfitters Blue Mountain Lake Open 7 days from 9 AM until 6 PM. Blue Mountain Lake, 144 Main Street, (518) 352-7306 We feature many crafts from hand pounded handmade black ash pack baskets, cloth, metals, jewelry, to balsam and clay. Blue Mountain Outfitters is a full service fly fishing outfitter offering proven names Fly fishing instructions and guiding are available upon request.





Tahawus Limited
P.O. Box 424, Lake Placid, NY 12946 - (518) 891-4334
Tahawus Guide Services offers traditional outdoor adventures for people of all ages, regardless of ability level or physical condition. Based on the legendary guide services of the late 1800's, the guides of Tahawus are experienced outdoor professionals who will delight you with the natural history and lore of the Adirondacks. Offering Fly Fishing, Canoe and Fishing trips, Mountaineering, Ski Tours, and so much more.

Campsites for Boaters - Kayak & Canoers
The Adirondack park offers a range of campsites as follows: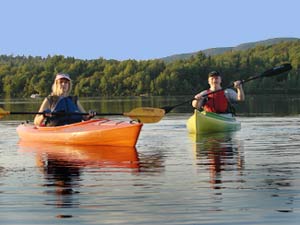 1. Roadside Public Campgrounds - multiple campsites, drive-in convenience, fee charged, showers, usually some hook-ups and many have lakefront sites. Examples: Fish Creek Pond, Rollins Pond, Buck Pond, Meacham Lake.
2. Wild Forest Campgrounds - multiple campsites, boat access only, fee charged, some have amenities like an outhouse, picnic table or a fireplace with a grill. Examples: Lower and Middle Saranac Lakes.
3. Designated Campsites - no fee charged - may or may not have any amenities. Examples: St. Regis Canoe Area and Fish Creek Ponds Area.
4. Established Campsites - no fee charged, occasionally an outhouse or picnic table, fireplace may be an informal ring of stones. These fire rings should be used for open fires. Please do not remove them. Examples: Raquette River, Paul Smiths Area and Lake Kushaqua Area, Tupper Lake.

Camping Permits for Kayak & Canoers
Camping permits are required for: (1) any party of ten or more, or (2) any party remaining in the same location for four or more nights. You are responsible for obtaining your own camping permit before your arrival from the State Forest Ranger for the district in which you will enter state lands. New York State now requires that anyone bringing --paying clients-- onto state land must have a Guide's License. Non-profit organizations are exempt.
In accordance with state laws, (1) properly dispose of human wastes (burial at least 8- down and 150' away from water or camp), (2) help maintain water quality by not washing directly in the lake or stream, (3) cut only wood that is both dead and down and (4) carry out all you carry in. Boiling or treating drinking water is recommended.


Region 5 Forest Rangers - Zone A
Name
Location
County
Telephone
Lt. Robert Marrone
Zone Supervisor
Saranac Lake
Essex, Fraklin
& Hamilton
518-891-2437
Jeffrey Balerno
Bloomingdale
Essex & Franklin
518-891-0477
Keith Bassage
Paul Smiths
Essex & Franklin
518-327-3132, Cell: 518-335-5087
Pete Evans
Lake Clear
Essex & Franklin
518-891-4897
Julie Harjung
Saranac Lake
Essex & Franklin
518-891-7379, Cell: 518-810-3985
Jim Waters
Long Lake
Hamilton
518-624-3272, Cell: 518-335-3261
Robert Zurek
Whitney-Lake Lila
Wilderness Area
Hamilton
518-624-6686, Cell: 518-505-4151
Camping Permits for Kayak & Canoers
Camping is permitted in the Adirondacks on state lands, and these areas offer numerous locations for overnight camping and day use. Adirondack Leantos are for the temporary use of overnight travelers and unless caught in a storm, they should not be used for more than one night. Canoesist should be prepared and carry their own tents in the event that leanto space is not available. In the event of cold weather, or buggy conditions a leanto is not the recommended form of overnight shelter. When camping on State land in the Adirondacks, larger groups must obtain an interior use camping permit for any overnight use (larger groups are defined as approximately 6-12 people). Smaller groups and individuals also require a permit from the DEC if they use the same location for more than three nights in a row. You need to get these permits in advance from the area forest ranger, whose address is available from the DEC.
for more information click here
Click here for topo maps of the Adirondack Park
and surrounding areas!





"Turn your old vehicle or boat into a valuable tax deduction and help your favorite charity. All with just one click!"



Donate Your Used Vehicle to Charity!

Donate your used car, boat, motorcycle, van or RV to your favorite charity & receive full fair market value as a tax deduction!
Click here to learn more and search for your favorite charity!
Free nationwide pickup and no complicated paperwork.
It's fast and easy. All vehicles accepted.


Search and choose from hundreds of religious institutions, schools, and charitable organizations including cancer research, multiple sclerosis and heart disease.




We invite you to visit our Adirondack
photo gallery by Frank Houck




Visit

Christmas Wreath.com

Search and compare the lowest prices for fresh balsam wreaths & hand crafted gifts from all over the country!

Free shipping & toll free ordering!

Click here

Visit

Cheap Gift Baskets.com

Treat that special person to a lovely gift basket for any occasion! Get the lowest prices on the web and search a huge selection of

gourmet gift baskets with cheese, wine & chocolate! Find corporate gifts, flowers, get well gift baskets, and much more!

Enjoy toll free ordering & free shipping!

Click here








BACK TO THE TOP
New York State & Vermont
Travel Guide Network
We invite you to visit one of the largest and most comprehensive award winning travel networks in New York State
& neighboring Vermont .
Choose your visitor guide by clicking on any one of the links below!
Adirondacks.com | AdirondackRealEstate.com | AdirondackRentals.com |GlensFalls.net | LakePlacidNY.com | SaranacLakeNewYork.com | Saratoga-NewYork.com | Upstate-NewYork.com | LakeChamplainValley.com | Burlington-Vermont.com | ThousandIslandsNewYork.com | MaloneNY.com | NorthCreekNY.com | WestportNewYork.com | CliftonParkNewYork.com |
Albany-New-York.com | Troy-NewYork.com | Utica-NewYork.com | Rome-NewYork.com | WarrensburgNewYork.com | Potsdam-NewYork.com | AdirondackHighPeaks.com | Canton-NewYork.com | Massena-NewYork.com | Plattsburgh-NewYork.com | LakePlacid-NewYork.com | GlensFalls.net | SchroonLakeNewYork.com | KeeneNY.com | KeeneValleyNY.com | ChestertownNY.com | GlensFallsNY.com | TiconderogaNewYork.com | TheChamplainValley.com | Champlain-Valley.com | ChamplainValleyRegion.com |
ChamplainValley.net | SaratogaSpringsRegion.com | Watertown-NewYork.com |
SaranacLakeNY.com | HighPeaksWilderness.com | VisitUpStateNewYork.com | VermontTravelGuides.com | Burlington-Vermont.com | StAlbans-Vermont.com | Rutland-Vermont.com | Middlebury-Vermont.com | Montpelier-Vermont.com |
Bennington-Vermont.com | Brattleboro-Vermont.com | NewYorkSkiing.com |
New YorkHiking.com | AdirondackHiking.com | AdirondackFishing.com |
AdirondackCamping.com | AdirondackSkiing.com | LakePlacidSports.com | LakePlacidSkiing.com | SaratogaSpringsRegion.com | SaratogaInns.com
| SaratogaHotels.com | SaratogaAttractions.com | SaratogaSpringsDining.com |
SaratogaSpringsLodging.com | SaratogaSpringsRestaurants.com |
SaratogaDirectory.Com | LakePlacidNY.com | LakePlacidHotels.com |
LakePlacidShopping.com | LakePlacidRestaurants.com | LakePlacidInns.com |
LakePlacidDining.com | LakePlacidResorts.com | LakePlacidSports.com | LakePlacidSkiing.com | LakePlacidHockey.com | LakePlacidSchools.com | OldForge-NewYork.com | AdirondackRestaurants.com
AdirondackWeddings.com | AdirondackCamping.com | AdirondackFishing.com |
AdirondackShopping.com | AdirondackLodging.com | AdirondackHotels.com
| AdirondackDining.com | AdirondackSkiing.com | AdirondackWeather.com
| AdirondackCrafts.com | VillageofLakeGeorge.com | DiscoverLakeGeorge.com |
Lake-George-NewYork.com | LakeGeorgeClassifieds



43 Broadway
Saranac Lake, New York 12983
Phone: 518-891-3745    Fax: 518-891-3768
E-Mail: Adirondacks.com

This website is owned and operated by
adirondacks.com internet publishing group.
For advertising and editorial content,
please contact Rob Grant;
adirondacks.com reserves the right to reject,
modify or cancel any advertising at its sole discretion.
© Adirondacks.com - all rights reserved